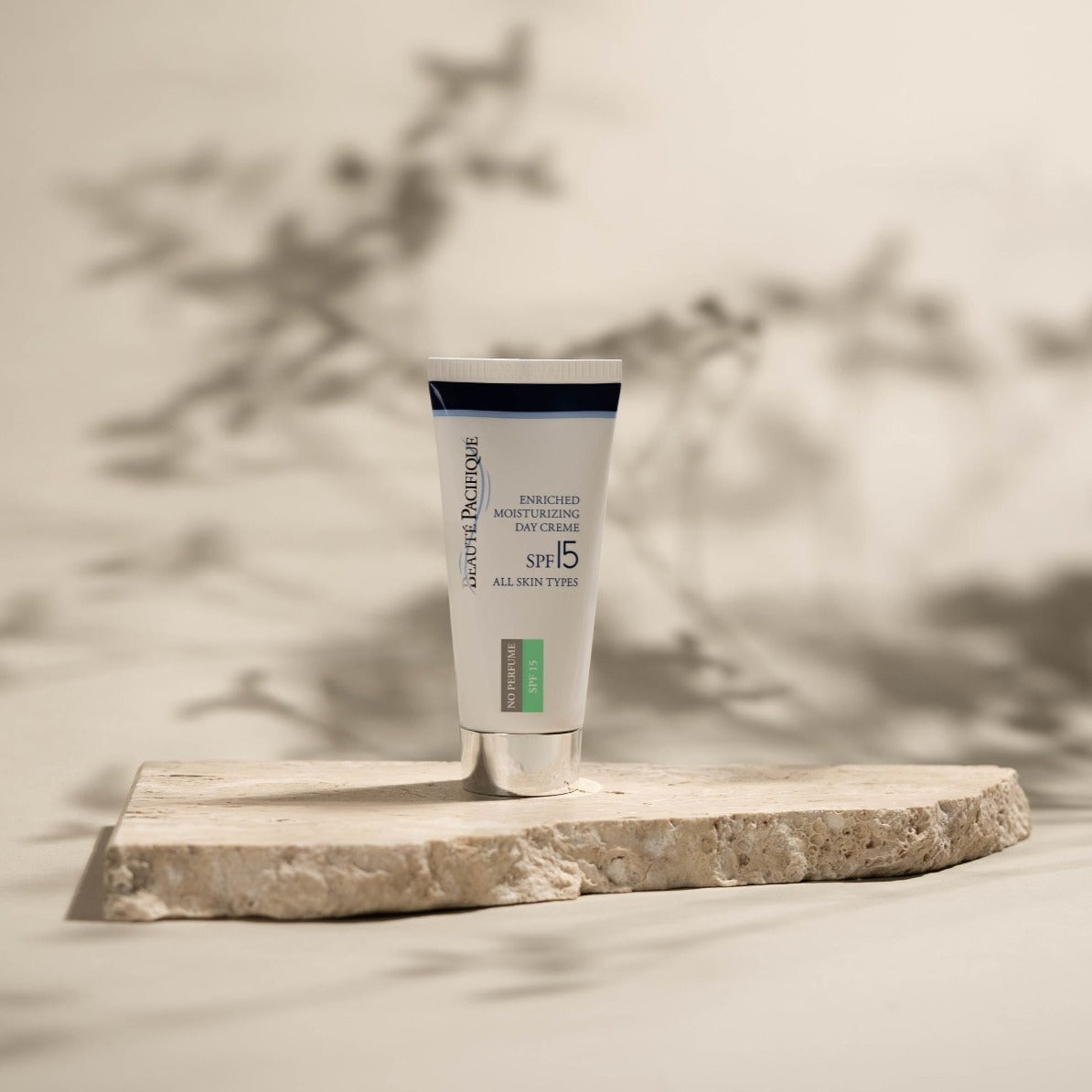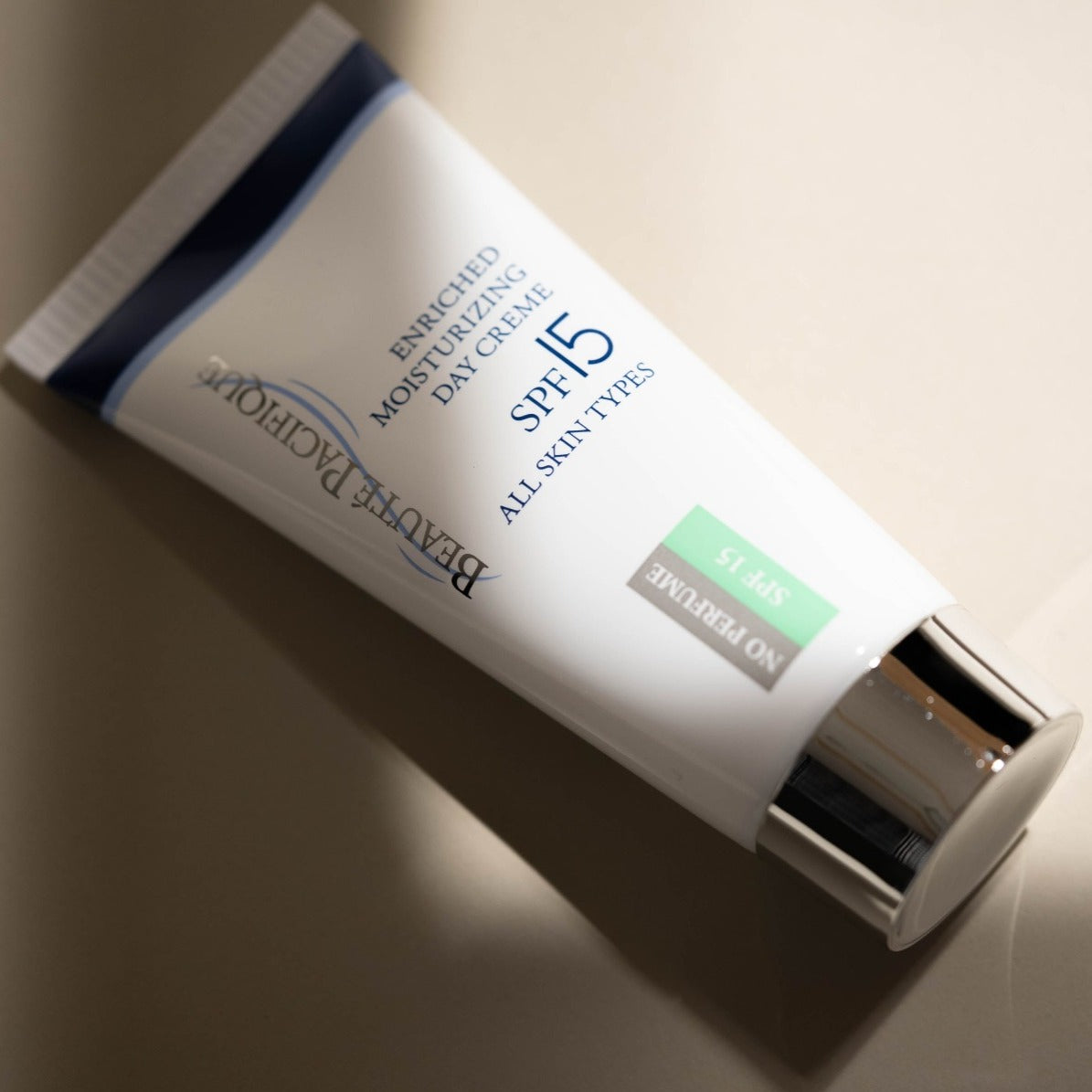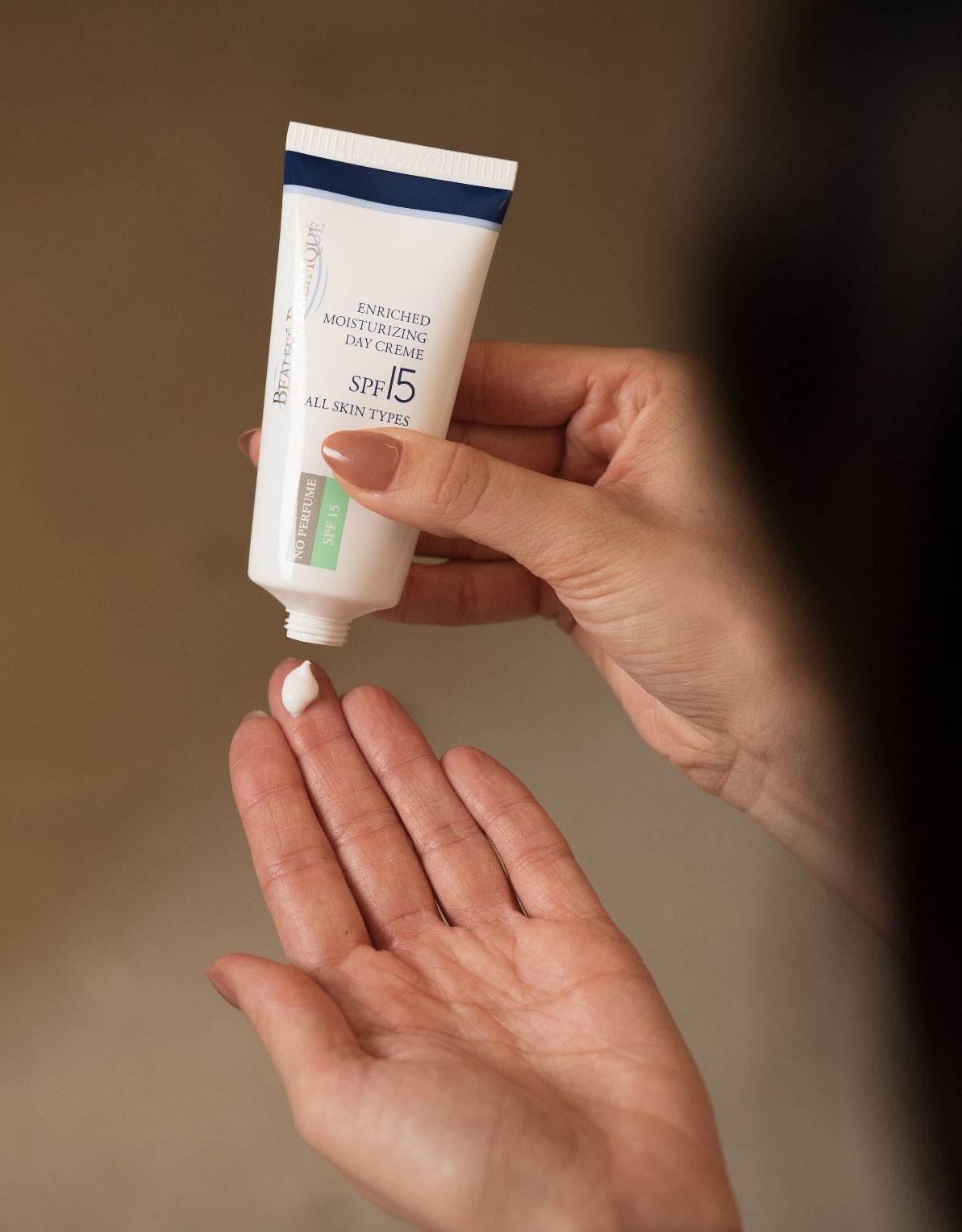 Beauté Pacifique SPF15 ENRICHED MOISTURIZING CREAM ALL SKIN TYPES, 50ml
100% Money Back Guarantee!
Delivery within 1-3 business days!
Beauté Pacifique SPF15 Moisturizing Day Creme SPF15 - all skin types - without perfume, 50ml
Intensive and long-lasting moisture day care with SPF15.
The unique combination of UV filters efficiently protects against both UVA and UVB radiation. It prevents the sunburns and sun damage that will otherwise age and damage the skin prematurely.
Apply generous amounts evenly all over the face and massage gently into the skin. Maintains an elevated high level of moisture that lasts for many hours.
Apply at the end of the skin care program to form a water-binding and sun-protective barrier - at the top of the epidermis.
Unique Benefits
Intense moisturizing formula that leaves the skin soft and thoroughly moisturised
Protects against both UVA and UVB rays
Boosts the skin's ability to retain moisture
Gives the skin renewed softness by adding Squalane
Main ingredients and their benefits:
2. Coco-Caprylate/Caprate | is a naturally derived ultra-light emollient that absorbs quickly and disperses leaving a soft and powdery aftertaste on the skin. It creates an invisible and ultra-silky film that provides long-lasting hydration.
3. Squalane | is an oil that occurs naturally in human skin and is an important component of the lipid system. This oil has a very high absorption capacity. The nanometer droplets of squalane act as efficient "transporters" of vitamin A and other oil-soluble active ingredients. Young and healthy skin contains a large amount of squalane, but it rapidly decreases with age. Because of this, squalane is perfectly absorbed into sun-damaged and aged skin. Lack of squalane in the skin can cause premature aging, very dry skin and loss of elasticity. Areas of skin that are frequently exposed to the sun's rays, which are constantly exposed, dry and prematurely aged, such as hands, elbows, heels, knees, etc., become incredibly soft and supple as soon as squalane oil is applied.
6. Glycerin | is one of the best and most widely used humectants (moisturizers). It easily penetrates the epidermis and makes the skin soft and silky. This vegetable glycerin can be used without problems on very sensitive skin types. It provides lubrication and leaves the skin soft and silky smooth. It is very soothing, especially for very dry skin.
10. Bis-Ethylhexyloxyphenol Methoxyphenyl Triazine | is a liquid chemical sunscreen that absorbs UVA and UVB radiation.
12. Butylmethoxydibenzoylmethane | is a liquid chemical sunscreen that absorbs UVA radiation.
13. Phenylbenzimidazole | sulfonic acid is a liquid chemical sunscreen that absorbs UVB radiation.
15. Saccharide | isomerate is a 100% naturally derived plant extract that mimics the natural moisturizing process, improving the skin's ability to retain moisture and protecting the skin against dehydration and sensitivity. It binds deep into the outer layers of the skin, meaning hydration continues long after application.