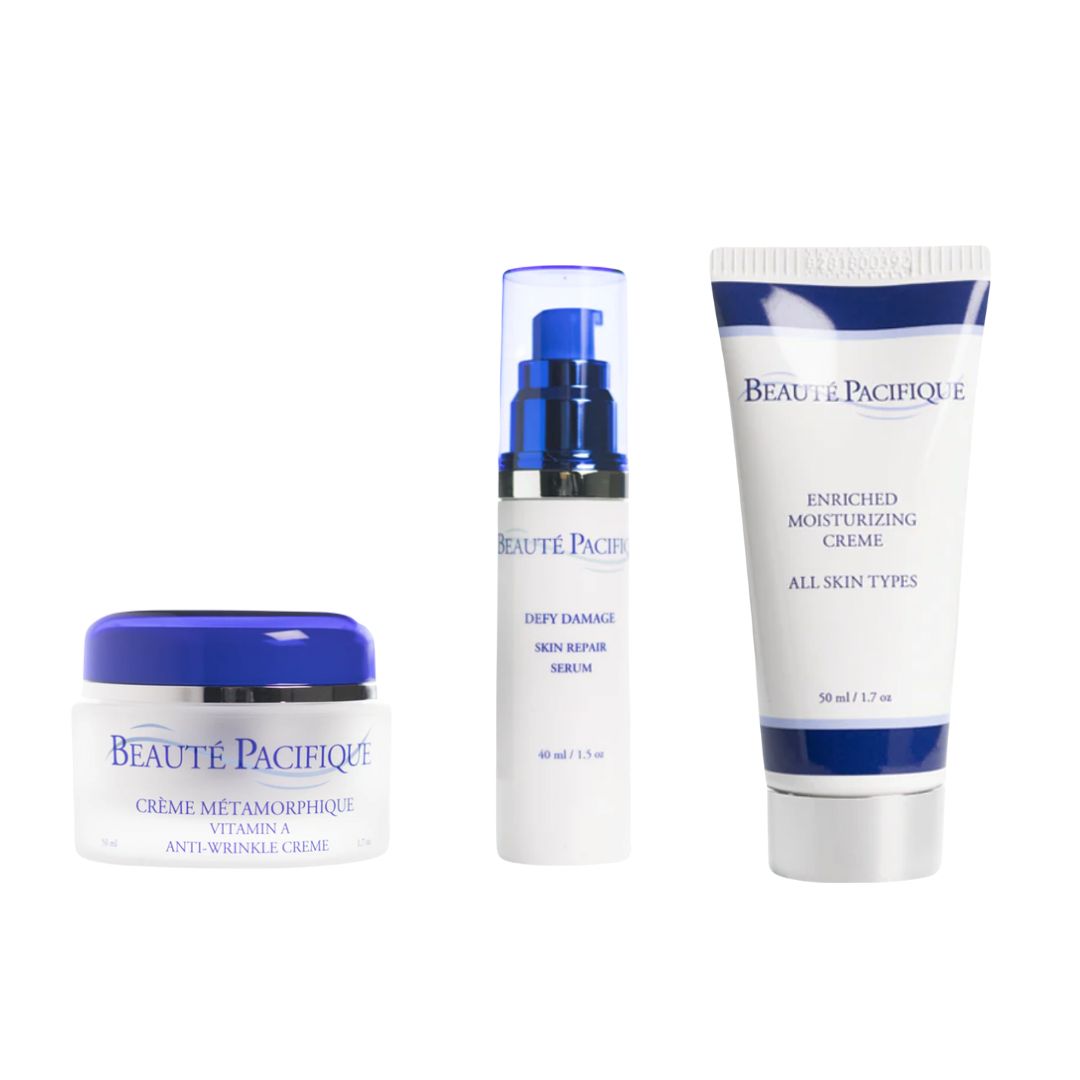 Set | anti age | normal skin type | basic
100% Money Back Guarantee!
Delivery within 1-3 business days!
Set for Aged Skin / Sun Damaged Skin / Normal Skin Type
Beauté Pacifique Crème Métamorphique, 50 ml
Beauté Pacifique Crème Métamorphique is an indispensable daily skin care product for everyone over 25 who wants to reduce the signs of aging and achieve healthy skin. Crème Métamorphique provides the skin with two types of vitamin A esters in a stable form, which, with a patented method of delivering active ingredients, are able to reach the deepest layers of the skin and restore the lost collagen structure of the skin in a short time.
This legendary cream has been scientifically proven to strengthen the skin's surface by up to 80% within 3 months. As a result of use, the skin becomes visibly younger and stronger, and the visibility of redness and dark circles associated with thin epidermis decreases. The result is often visible in the mirror after 5 days of use. After 3 months of use, the restoration of the structure of the deepest levels of the skin can be observed during ultrasound diagnostics of the skin. Damage to the skin structure caused by the sun and the aging process is significantly reduced. Crème Métamorphique is specially formulated for normal or dry skin types.
The incredibly high efficiency of this night cream is recognized by the world's best dermatologists. The cream is able to restore the skin so significantly that doctors recommend using it before and after operations and laser procedures. Using it at least a month before the procedure creates stronger skin. By using this A-vitamin ester cream after the procedure, the skin is able to regenerate significantly faster.
*115 ml of Crème Métamorphique is intended for an average of 9 months of use, applying the cream from the forehead to the décolleté area.
Main ingredients and their benefits:
2. Glycerin | is one of the best widely used moisturizing ingredients. It is very well absorbed into the epidermis of the skin and makes the skin soft and tender. This plant-based glycerin can be safely used even on very sensitive skin. By intensively moisturizing the skin, the skin becomes soft and silky smooth. This ingredient is especially suitable for particularly dry and sensitive skin types.
3. Squalane | is an oil that naturally occurs in human skin and is an essential component of the lipid system. This oil has a very high absorption capacity. Nanometer-sized Squalane droplets are effective "transporters" for A-vitamins and other active oil-soluble ingredients. Young and healthy skin contains a large amount of Squalane, but with aging its amount decreases rapidly. For this reason, Squalane is perfectly absorbed by sun-damaged and aged skin. Loss of squalane in the skin can lead to premature aging of the skin, very dry skin and loss of skin elasticity. Parts of the skin that are often exposed to the sun's rays, which are dry and show signs of premature skin aging, such as hands, elbows, heels, knees, etc. become incredibly soft once properly formulated Squalane is applied.
10. Lanolin | (purified medical quality) plays an important role in maintaining the moisture balance of the skin and contributes to the formation of an extremely soft skin surface, especially when it is used in combination with Squalane oil. Previously known problems with allergies caused by Lanolin are minimized in this quality of Lanolin. The Lanolin used in our products is medically purified from all allergenic impurities.
15. Tocopheryl Acetate | is a form of vitamin E that plays an important role in the protection against free radicals, both the skin and the product itself and its valuable composition.
17. Retinyl Palmitate | is an ultra-stable form of vitamin A, which we formulate in our creams in a way to maintain their highest potency, both during application and when applied to the skin. Encapsulated in nanometer-sized squalane droplets, vitamin A is able to penetrate deep into the skin in sufficient quantities to stimulate the cells that synthesize the lost collagen fiber structure and rejuvenate the skin. Wrinkles and expression lines are reduced and due to the regeneration of the entire skin structure, the skin becomes significantly younger. Such regeneration is possible in a patented combination with Squalane oil, which acts as an effective delivery system, reaching the deepest layers of the skin. A-vitamin transformed into an absolutely unique and unimaginably effective anti-aging effect, as a result of which skin regeneration reaches 10-20 years younger skin indicators.
18. Tocopherol | is another source of vitamin E, which plays an important role in protecting the skin and the product composition from harmful free radicals. In addition, it also acts as a natural moisturizing ingredient that has the ability to reduce facial lines and wrinkles.
19. Retinyl Accetate, like Retinyl Palmitate | is a particularly stable form of vitamin A and has the same significant anti-aging effect on the skin, acting in parallel with and in the same way as Retinyl Palmitate. Compared to Retinyl Palmitate, it helps the skin's special cells to regenerate and improve sun-damaged and aged skin.
Defy Damage Skin Repair Serum | Regenerating A-vitamin day serum, 40ml
Beauté Pacifique day serum is created by combining water-soluble ursolic acid and oil-soluble vitamins A. Contains as much vitamin A as the legendary Crème Métamorphique night cream.
This serum prevents wrinkles, reduces sun damage and leaves the skin silky soft. It has a vasoconstricting effect that helps prevent facial redness.
For maximum effect, apply to previously cleansed skin. Defy Damage serum has a very light texture and is suitable for all skin types. It creates a perfect base for applying make-up. Perfect for use under moisturizer.
For skin care and regeneration of combination and oily skin, it is recommended to use together with Oil Free Moisturizer oil-free moisturizing cream. Defy Damage Skin Repair Serum is non-greasy and therefore especially suitable for men's skin care and regeneration.
Enriched Moisturizing Creme – All Skin Types| Moisturizing face cream for normal skin type, 50ml
Beauté Pacifique Enriched Moisturizing Creme Intensive skin moisturizing with concentrated natural Squalane oil, which gives the skin a long-lasting moisturizing effect and delivers C and E-vitamins deep into the dermis.
The antioxidants in its composition protect the skin from free radicals and slow down skin aging. Contains extremely moisturizing ingredients such as Hyaluronic Acid, Aloe Vera, Glycerin and medically purified Lanolin. In addition, this cream also easily protects against the harmful effects of ultraviolet rays.
Can be used as a day / night cream, alone or together with an Anti-age cream or serum.