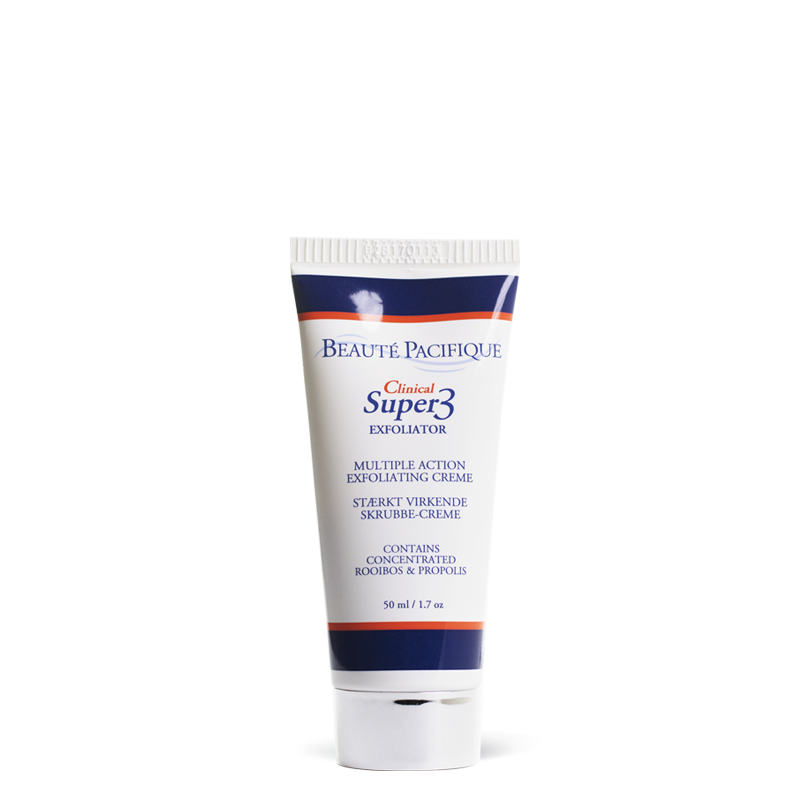 CLINICAL SUPER 3 EXFOLIATOR, 50ml
Removes dull looking and dead superficial cells
Increases the moisture level in the skin
Opens clogged pores and works against inflammation in impure skin
100% Money Back Guarantee!
Delivery within 1-3 business days!
Beauté Pacifique CLINICAL SUPER 3 EXFOLIATOR, 50ml
Peeling with acids (glycolic acid, salicylic acid and azelaic acid)

Beauté Pacifique Clinical Super 3 Exfoliator is an extra strong acid exfoliating cream with perfectly rounded beads that also mechanically removes dead skin cells and unclogs pores. Combining the action of peeling acids with gentle mechanical cleansing results in extremely smooth, glowing and healthy skin.

With this peeling cream, the skin is simultaneously cleansed biologically with three different types of acids: Glycolic acid, Salicylic acid and Azelaic acid - as well as White Willow bark extract. The result is a more youthful appearance, a silky smooth skin surface with smoothed epidermal relief.

Beauté Pacifique Clinical Super3 Exfoliator also contains antibacterial Propolis, a natural defense against microbial infections that limits further skin damage caused by dirty skin, such as infection and associated scarring.

Clinical Super3 Exfoliator also contains Rooibos extract, one of the most promising and broad-spectrum ingredients that improves the skin and strengthens its natural defenses against the degradation of aging. Rooibos is also an effective anti-oxidant that also moisturizes the skin and protects it from free radicals that damage the skin and contribute to its aging.

Peeling is suitable for:

For acne,
For skin with increased sebum production,
For cleansing oily and combination skin,
For skin preparation before non-ablative IPL / Laser procedures
Valuable benefits:

Exfoliates the skin for a smoother, younger and healthier look,
Frees the skin from dead cells and grayish tones,
Increases the level of moisture in the skin,
Stimulates blood circulation,
Opens clogged pores, provides an anti-inflammatory effect for skin with rashes
Private experience: 
Dermatologist LAUMA VALEINE in the March 2015 edition of PASTAIGA magazine: "Beauté Pacifique peeling Clinical Super3 Exfoliator combines a classic scrub and chemical peeling. It is professional, therefore effective, but safe for home use. Suitable for different skin types - the method of use and frequency. Patient reviews are excellent! Perfect for problem, oily, combination skin. I've been using it myself for six months, it's perfect for my combination skin and is an indispensable, perfect product for a busy day. Exfoliating plus moisturizing mask once or twice a week provides a facial the minimum. You have to expect that the product will sting a lot in the first five minutes. This is normal!"
When the skin is dry, it is recommended to use the clay mask Deep Pore Cleansing Mask for in-depth cleansing of the pores, and then apply the Intensive Moisturizing Mask or the Clinical Super3 Booster A-vitamin ester cream.
Use no more than twice a week to avoid excessive reduction of the skin's epidermis. Always buy and use only after consultation with our specialist, doctor, pharmacist or beautician.
Main ingredients and their benefits
2. Glycolic Acid | particularly effective peeling due to its excellent ability to penetrate and remove dead skin cells from the surface of the skin. Glycolic acid also increases moisture levels in the skin.

6. Salicylic Acid | is a key ingredient in the treatment of many skin conditions such as acne and psoriasis. Salicylic acid rids the skin of dead cells, opens clogged pores and prevents them from re-clogging.

12. Azelaic Acid | is known to be an effective ingredient for treating acne and rosacea. Azelaic acid reduces skin redness, unclogs pores and works against bacteria that cause acne.

14. Propolis Cera Water Extract (PWE) | natural protection against microbial infections found in beehives where bees are protected from diseases and infections.

15. Anti-inflammatory effect of Salix Alba (Willow) Bark Extract

19. Glycyrrhiza Glabra (Licorice) | Root Extract A unique plant found in South Africa that is rich in antioxidants including aspalatin found only in Rooibos. It is known as the most popular natural product for dry and irritated skin care. Many scientific publications have described several benefits of Rooibos and it is known as a valuable and natural medicine all over the world.