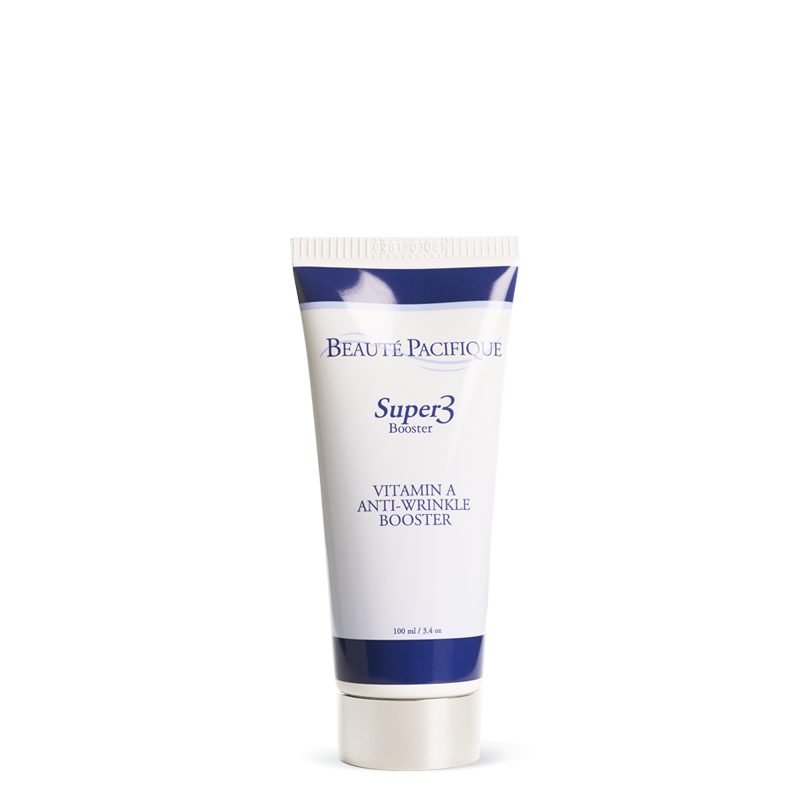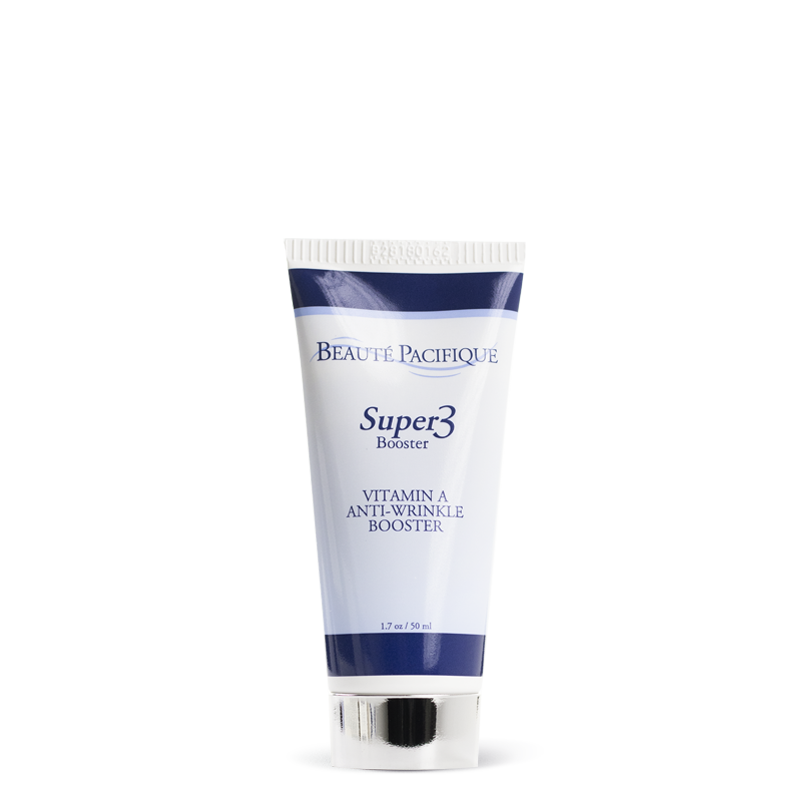 Vitamin A | SUPER 3 BOOSTER NIGHT CREAM, 50-100ml
Atjauno ādu dziļākajos slāņos
Cīnās ar akni
Samazina sebuma aktivitāti
100% Money Back Guarantee!
Piegāde 1-3 darba dienu laikā!
A rejuvenating Vitamin A night booster

Beauté Pacifique Super 3 Booster is one of the most effective anti-aging products of the moment. The incredibly high efficiency of this cream is recognized by the world's best dermatologists.
The cream contains three different types of stable form of vitamin A esters, each of which stimulates the production of collagen and elastin in a different way.
The active ingredients with a patented delivery method are able to reach the deepest layers of the skin and restore the lost collagen structure of the dermis in a short time. Within 3 months, the surface of the skin becomes up to 80% stronger.
Beauté Pacifique Super 3 Booster can independently reduce sun damage and wrinkles. The result is visible in the mirror after 5 days of use. After 3 months of use, we are able to show exactly the changes in your subcutaneous structure with the DermaScan ultrasound equipment, which is used in the best medical facilities around the world.
Beauté Pacifique Super 3 Booster contains active ingredients that regulate the activity of sebaceous glands and reduce the formation of acne. Supplemented with disinfecting propolis, Super3 Booster becomes an ideal tool for the care and strengthening of oily, acne-prone and problematic skin of young people.
Thanks to its light structure, this cream is also perfect for men's skin care and renewal.
100 ml of Super3 Booster is intended for an average of 8 months of use, applying the cream from the forehead to the décolleté area.
Main ingredients
3. Squalane is an oil that occurs naturally in human skin and is an important component of the lipid system. Its penetration power is extremely high. Nanometer squalane droplets act as efficient transporters for vitamin A and other oil-soluble active ingredients.
Young and healthy skin contains large amounts of squalane, but its levels will decrease dramatically with age. Therefore, squalane is perfectly absorbed into sun-damaged and aged skin.
Lack of squalane in the skin can lead to premature aging, very dry skin and loss of elasticity. Permanently exposed, dry and prematurely aged skin areas, such as on the hands, elbows, heels and knees, etc. becomes incredibly soft immediately when squalane is applied in the right formulation.
4 + 6 + 9. Sebum-regulating is a remarkable mixture of natural extracts that significantly reduces the skin's production of sebum. It reduces severe and stubborn acne and dirt problems. Special impurities exposed to hormonal imbalance in the skin can be effectively treated. The mode of action is based on inhibition of synthesis
testosterone, which is again a hormone that regulates sebum secretion.
16. Propolis wax water extract (PWE) is nature's own defense against microbial infections found in beehives protects bees from diseases and fungal infections.
31. Retinyl Acetate is like Retinyl Palmitate, an ultra-stable form of Vitamin A, and has similar remarkable effective rejuvenating effects on the skin that work in parallel and in the same way as Retinyl Palmitate. It allows the skin's specialized cells to repair sun-damaged and aged skin, much like Retinyl Palmitate does.
36. Retinyl palmitate is a particularly stable form of vitamin A that we have included in our creams so that they retain their high potency both during storage and when applied to the skin. Encapsulated in nanometer-sized droplets, Squalane Vitamin A can penetrate deep into the skin in sufficient quantities to stimulate cell type, synthesize lost collagen fiber structures, resulting in younger looking skin. Wrinkles and fine lines are reduced and all over
in depth, the skin structure is significantly restored. This is possible thanks to our patented combination with squalane, which acts as an effective delivery system that penetrates the entire depth of the skin, transforming vitamin A into a completely unique and extremely effective anti-aging action in the skin, corresponding to skin renewal, equivalent to 10-20 years younger skin.
Labākais nakts krēms, kāds man jebkad bijis. Jau pēc pirmajām reizēm varēju just rezultātu, ka āda strauji atveseļojās! Ir jau iepirktas rezerves, jo ir tā vērts!
Esmu ļoti priecīga par šo pirkumu - sejas āda jau kļuvusi gludāka, maigāka un jūtas "pabarota". Iegādājos pēc dermatoloģes Annas Bērziņas ieteikuma sociālajos tīklos. Kā arī to jau atkārtoti pasūtīju, kā dāvanu mammai.
Nopirku vairākus produktus. Esmu ļoti apmierināta. Āda tiešām izskatās un jūtas labāk jau pēc divām nedēļām.
Krēmu lietoju jau divus gadus, ļoti esmu apmierināta. Sejas āda maiga- krēms ātri uzsūcas ādā.