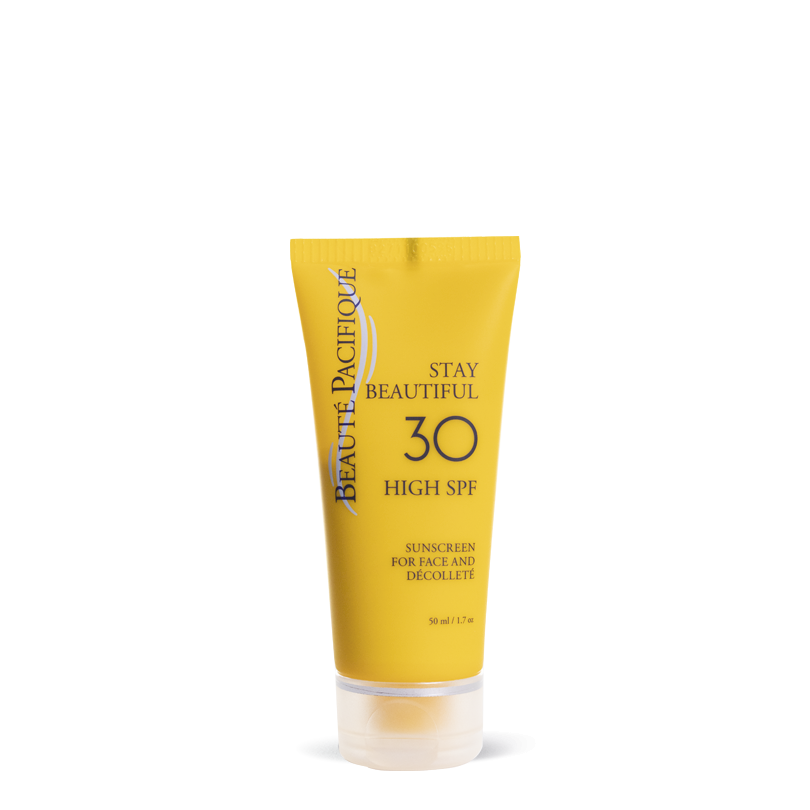 STAY BEAUTIFUL SPF30 sunscreen for face and decolete, 50ml
High SPF level (30)
Protects against UVA and UVB radiation
Prevents sunburn/damage
100% Money Back Guarantee!
Piegāde 1-3 darba dienu laikā!
STAY BEAUTIFUL SPF30 sunscreen for face and decolete, 50ml
Modern luxury sunscreen with Chilean grape seed extract and moisturizing effect.
Beauté Pacifique STAY BEAUTIFUL SPF30 ir moderns luksus klases saules aizsargkrēms – efektīvai ādas aizsardzībai no ultravioletajiem stariem visai ģimenei. Īpašā  5 dažādu UV staru filtru sistēma un vieglā tekstūra sniedz ļoti augstu aizsardzību gan no UVA, gan arī no UVB radiācijas.
STAY BEAUTIFUL sejas un dekoltē zonai sniedz dubultu pretnovecošanās iedarbību:
Aizsargā no saules apdegumiem un to izraisītiem ādas struktūras bojājumiem, kas turpmāk veicina priekšlaicīgu ādas novecošanos.
Pievienotais Čīles Vīnogu Kauliņu Ekstrakts (GSPE) – Resveratrols un Procianidīns, kas ir papildināts ar E-vitamīnu, nodrošina augstu antioksidatīvu aizsardzību no kaitīgās brīvo radikāļu iedarbības.
STAY BEAUTIFUL unikālā filtru kombinācija, ir ļoti viegla, ātri iesūcas un neatstāj uz ādas baltu kārtiņu.
Nesatur smaržvielas un ir piemērots arī lietošanai grūtniecības laikā un bērniem.

Ieteikums: Vienmēr baudiet sauli ievērojot piesardzību. Iesakam izvairīties no ilgstošas sauļošanās un no sauļošanās laika posmā no 12:00–15:00, pat tad, ja tiek lietots saules aizsargkrēms.
Lai nodrošinātu maksimāli augstāko aizsardzību, uzklāt Beauté Pacifique STAY BEAUTIFUL SPF30 atkārtoti vairākas reizes dienas laikā kā arī pēc peldēšanās.