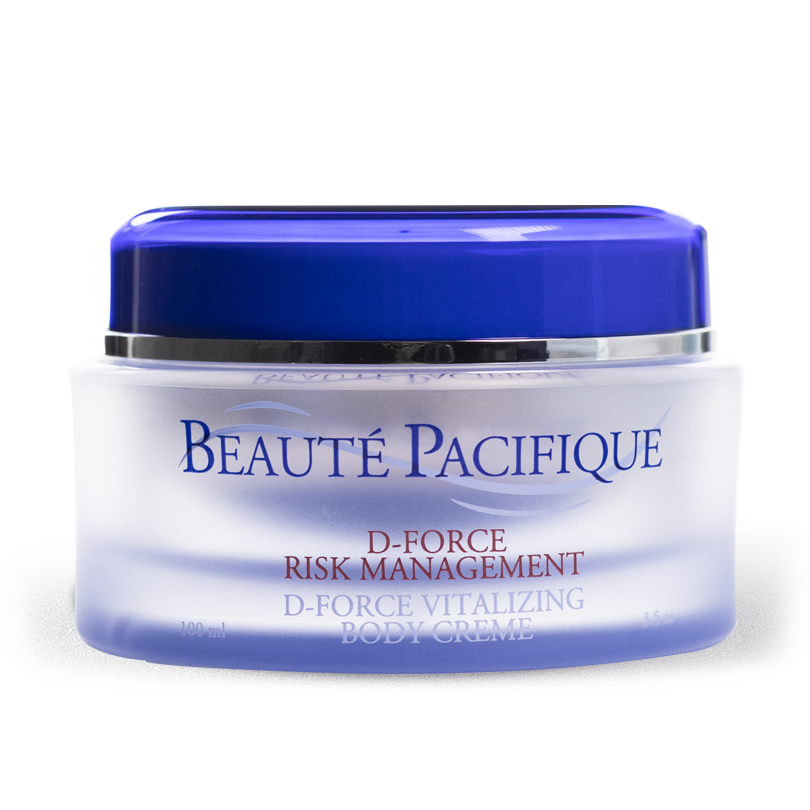 Beauté Pacifique D-Force Risk Management Body Creme, 100ml
Contains two types of vitamin E - act as antioxidants
Contains three effective forms of vitamin A esters that fight signs of aging and sun damage
Provides natural vitamin D that supplements the vitamin D produced in the skin by the sun
100% Money Back Guarantee!
Delivery within 1-3 business days!
Beauté Pacifique D-Force Risk Management Body Creme, 100ml
The Beauté Pacifique D-Force product line is a fantastic innovation in the cosmetics industry. Now it has become possible to deliver the missing D-vitamins in a natural way - through the skin, to those places where the skin is unable to produce them on its own due to the lack of sunlight.
Vitamin D occurs only in the skin and as various studies show, the lack of vitamin D in the skin can cause very serious health problems. Such a lack of vitamins is especially characteristic of the people of Northern Europe, as well as elsewhere, where modern people, in order to preserve vitamins and reduce the risk of skin cancer, choose to minimize the recommendation of UV rays and stay in the sun less and less. To compensate for the missing D-vitamins, we have created D-FORCE products, which are able to deliver the missing vitamin D to the body through the skin.
The D-vitamin contained in the product is 250 IU per 1 ml of the product. When the cream is applied to the skin, vitamin D is delivered to the deeper layers of the skin by Beauté Pacifique's patented (nanometer squalane) delivery system, which serves as a vehicle to deliver the vitamin through the skin barrier.
D-FORCE is an extremely effective body Anti-Age skin care product, providing particularly effective protection against skin aging and at the same time compensating for the lack of sun with D-vitamins.
Main ingredients and their benefits:
2. Persea Gratissima (Avocado) Oil | is rich in linoleic acid, a substance essential for healthy skin that aging skin fails to maintain over time, and is an extremely powerful plant-based source of natural vitamin D. The ingredient can be completely dissolved and integrated with plant squalane and transported into the skin using Beauté Pacifique's patented nanometric delivery system.
6. Squalane oil | which occurs naturally in human skin and is an important component of the lipid system. The oil has a high absorption capacity. Nanometer droplets of squalane act as efficient "transporters" of vitamin A and other oil-soluble active ingredients. Young and healthy skin contains a large amount of squalane, but it rapidly decreases with age. Because of this, squalane is perfectly absorbed into sun-damaged and aged skin. Lack of squalane in the skin can cause premature aging, very dry skin and loss of elasticity. Areas of skin that are frequently exposed to the sun's rays, which are constantly exposed, dry and prematurely aged, such as hands, elbows, heels, knees, etc., become incredibly soft and supple as soon as squalane oil is applied.
22. Retinyl Palmitate | is an ultra-stable form of vitamin A, which we formulate in our creams in a way to maintain their highest potency, both during application and when applied to the skin. Encapsulated in nanometer-sized squalane droplets, vitamin A is able to penetrate deep into the skin in sufficient quantities to stimulate the cells that synthesize the lost collagen fiber structure and rejuvenate the skin. Wrinkles and expression lines are reduced and due to the regeneration of the entire skin structure, the skin becomes significantly younger. Such regeneration is possible in a patented combination with Squalane oil, which acts as an effective delivery system, reaching the deepest layers of the skin. A-vitamin transformed into an absolutely unique and unimaginably effective anti-aging effect, as a result of which skin regeneration reaches 10-20 years younger skin indicators.
23. Retinyl Acetate | like Retinyl Palmitate, is a particularly stable form of Vitamin A and has the same significant anti-aging effect on the skin, acting in parallel with and in the same way as Retinyl Palmitate. Compared to Retinyl Palmitate, it helps the skin's special cells to regenerate and improve sun-damaged and aged skin.
24. Tocopherol | is another source of vitamin E that plays an important role in protecting both skin and products from the damaging effects of free radicals, and it acts as a natural moisturizer and can reduce fine lines and wrinkles.