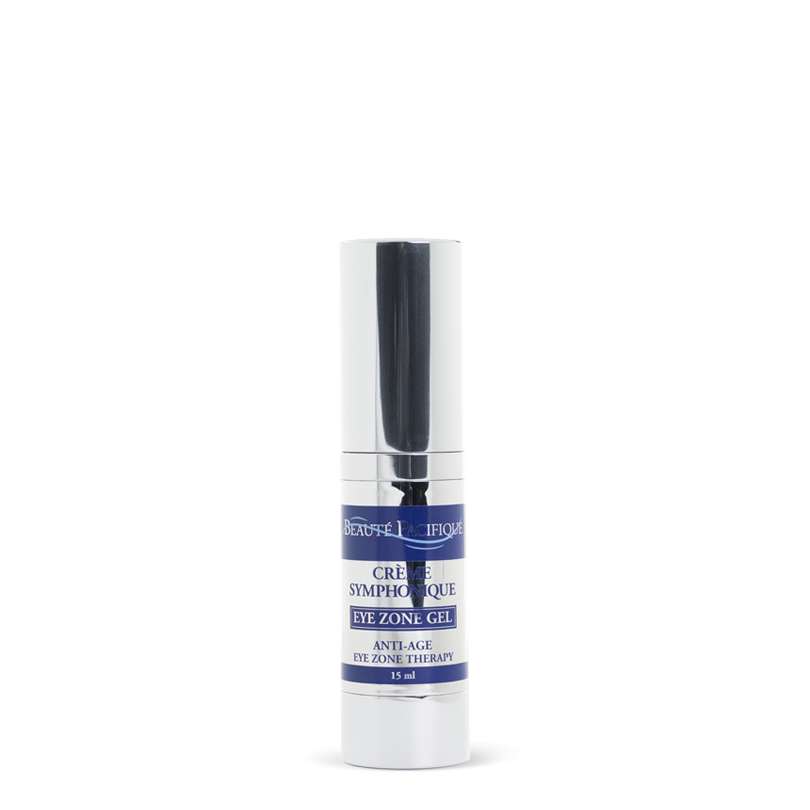 SYMPHONIQUE EYE ZONE GEL 45+, 15ml
Patent applied with six multifunctional forms of vitamin A
Immediate firming effect
Formulated with the latest in dermatological Anti-Age research
100% Money Back Guarantee!
Piegāde 1-3 darba dienu laikā!
SYMPHONIQUE EYE ZONE GEL 45+, 15ml
This modern eye care product restores the appearance of the eye area in just 15 minutes. Fine lines and wrinkles are instantly filled with sugar molecules.
The entire Symphonique concept (Patent Pending) provides the skin with six highly active forms of vitamin A for the highest antiaging results.
The high efficiency of the eye gel is enhanced by ingredients similar to Botulinum toxin, which prevent mimic lines, as well as anti-oxidative ingredients that increase the effect of Anti-Age.
Main ingredients and their benefits:
3. Glycerin | one of the best and most widely used moisturizers. It easily penetrates the epidermis and makes the skin soft and silky. Owners of sensitive skin can also use this vegetable glycerin. It provides lubrication, leaving the skin soft and silky smooth. It is very soothing, especially for dry skin.
5. Niacinamide | specifically acting in the extracellular space (the "mortar" that holds cells together). It prolongs the biological processes that control both the cohesion between cells and the processes that maintain the functions of dehydrating cells as long as possible.
7. Bis (Cyano Butyl Acetate) Anthracenediylidene | a powerful anti-aging antioxidant proven to block sun-induced aging before it even starts. Compared to other antioxidants, it works more actively and efficiently – safely preventing the formation of harmful reactive oxygen species (ROS) and free radicals caused by the sun. The skin becomes more resistant to UV radiation and less prone to sun-induced signs of premature aging, such as loss of skin elasticity, fine lines and wrinkles.
8. Retinyl Palmitate | is a particularly stable form of vitamin A that we have incorporated into our creams to maintain its high potency both during storage and when applied to the skin. Encapsulated in nanometer-sized droplets of squalane, vitamin A is able to penetrate deep into the skin in sufficient quantities to stimulate the type of cells that synthesize lost collagen fiber structures, resulting in younger-looking skin. Wrinkles and fine lines are reduced and the entire skin structure is significantly restored. Thanks to our patented combination with squalane, which acts as an effective delivery system that penetrates the entire depth of the skin, vitamin A turns into a completely unique and extremely effective anti-aging action in the skin, corresponding to 10-20 years of renewal.
9. Retinyl Acetate | is, like Retinyl Palmitate, an ultra-stable form of vitamin A, and has similar remarkable and effective skin rejuvenating effects that work in parallel and in the same way as Retinyl Palmitate. It allows the skin's specialized cells to repair and regenerate sun-damaged and aged skin comparable to Retinyl Palmitate.
10. Retinyl Linoleate | is a variant of vitamin A like Retinyl Palmitate and Retinyl Acetate and therefore a particularly stable form of vitamin A with a similar mode of action. It is also a precursor to retinoic acid—appearing autonomously by transforming the skin's internal natural biology—and a precursor to linoleic acid, which provides additional hydration through the synthesis of hyaluronic acid.
11. Anigozanthos Flavidus (Kangaroo Paw) Extract | is an organic flower extract that acts as an anti-aging and anti-wrinkle agent. It increases the production of dermal architectural protein (Tenascins-X) and increases the synthesis of the dermal proteins collagen and elastin. It tightens the skin by increasing fibroblasts' ability to contract and cell turnover. It restores the skin's internal structure and reduces the appearance of both wrinkles and sagging skin.
12. Alteromonas Ferment Extract | a newly discovered exotic plant extract that relaxes the muscles of expression underlying the skin - somewhat similar to the effect achieved with botulinum toxin injections. This ingredient only works if complete transdermal penetration is achieved. Beauté Pacifique's patented squalane-based delivery system is the key to making this possible with a non-medicinal cosmetic product.
13. Retinol | is a particularly potent form of vitamin A encapsulated in microcapsules with a nanostructured wall, specially designed to create a highly effective barrier that protects hyperactive retinol from oxidation and degradation even before application and remaining on the skin's surface. The capsule breaks down slowly and provides a delayed release of retinol, preventing the usual excessive irritation and redness. Starting as soon as applied to the skin, some of the capsules break, releasing retinol, while the remaining intact capsules remain in the skin's wrinkles, where they eventually break during the night, providing a long-lasting and rejuvenating effect after application.
14. Dipeptide Diaminobutyroyl Benzylamide Diacetate | is a molecular construct designed as a close copy of snake venom. The snake uses its venom to paralyze its prey, and Beauté Pacifique uses this action to mimic a similar action that can be achieved with botulinum toxin injections. The ingredient is produced by a large Swiss herbal/snake serum company and was awarded for excellence in advanced technology.
15. Hydroxypinacolone Retinoate | is another vitamin A variant that helps restore skin's thickness, elasticity and hydration for a radiant and fresh appearance. In addition to the benefits provided by Retinyl Acetate, it is known to stimulate the proliferation of skin cells; restoring the thickness of skin that has become thinner over time.
Esmu pārsteigta par šo produktu iedarbību! Abus krēmus kombinēju vienu ar otru. Efekts ideāls!!! Maisiņi zem acīm jūtami mazinājusies, acis izskatās svaigas, iegūstu jauneklīgāku skatienu! Ļoti patīk! Notestēju arī Symphonique sejas krēmus, noteikti iegādāšos! Una